Company
Corporate Profile
Corporate Greeting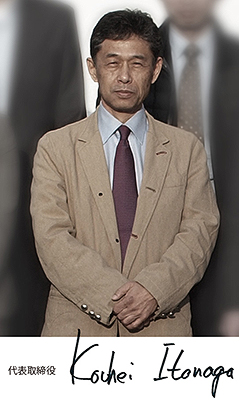 The role of 'Akari (light)'
does not deliver a satisfaction just because it is bright enough, yet,
we will be acknowledged by the wide ranges of 'Akari' in our daily life.
'Akari' that controls safety and security
'Akari' that appends a joy with embellishing the landscape
'Akari' that brings the objects into prominence,
and holds various roles and a joy could be brought by 'Akari' to our lives.
One light delivers people a relief.
SD.Hess Lighting- We support 'Akari'.
SD.hess Lighting was established in 2010 as a Joint venture between Hess AG and Shingo Denzai. We restarted after the renovation of our organization system as of the fiscal year of 2014.

Engineering sales of the unique European lighting, and the development and marketing of our original products, that's based on our customer's needs are the fundamental factors of our role. We will ensure the best lighting solution that is precision designed to each design and functionality for every approach by the customers in the outdoor lighting field and aim to become a supporter for 'Akari.'

We are committed to provide competent service as a specified outdoor lighting
Corporate Profile
Company Name
SD Lighting Co., Ltd.
Establishment
September 7, 2010
Capital Stock金
JPY 27 million
President
Kouhei Itonaga
Sales product
Outdoor lighting (Street lighting, Roadway lighting, Effect lighting, Architectural lighting, including a pole, Site furniture, etc.)
Interior/Exterior lighting for architectural buildings/facilities
Head Office・Sales Office

◆Head office

HQ and Factory


1-29 Shinkoh-machi, Omuta-city, Fukuoka 836-0061 JapanMap
Tel: +81-944-56-8285 / Fax:+81-968-65-9137

Arao factory


1952-3 Kakihara, Arao-city, Kumamoto, 864-0025 JapanMap
Tel:+81-968-65-9135 / FAX:011-733-7933

Tohbu office


112 Nishimachi Ryoushinda Souka-city, Saitama, 340-0027 JapanMap
Tel:+81-48-928-3456 / Fax:+81-48-928-3446

◆Head office

Hokkaido Sales Office


14-6-23 North 33 jyo east Higashi-ku, Sapporo-city, Hokkaido, 060-0051 JapanMap
Tel:+81-11-733-7911 / Fax:+81-11-733-7933

Tohoku Sales Office


Ever-i Sendai ekimae bldg 403 1-1-6 Kakyouin Aoba-ku, Sendai-city, Miyagi, 980-0013 JapanMap
Tel:+81-22-215-5541 / Fax:+81-22-215-5542

Tokyo Sales Office


9-27 Shin-Ogawacho, Shinjuku-ku, Tokyo, 162-0814 JapanMap
Tel:+81-3-5227-8005 / Fax:+81-3-5227-8008

Chubu Sales Office


2-3-22 Aoi, Higashiku, Nagoya, Aichi, 4610004 JapanMap
Tel:+81-52-930-5388 / Fax:+81-52-930-5389

Kansai Sales Office


6-11-13 Hishie, Higashi Osaka-city, Osaka, 578-0984 JapanMap
Tel:+81-72-960-3941 / Fax:+81-6-6744-8819

Chugoku Sales Office


3-15-7 Shinonome Minami-ku, Hiroshima-city, Hiroshima, 734-0022 JapanMap
el:+81-82-286-4366 / Fax:+81-82-286-9533

Kyusyu Sales Office


Hakata plaza bldg 3F, 2-5-21 Hakat-Eki-Higashi, Hakata-ku, Fukuoka-city, Fukuoka, 812-0013 JapanMap
Tel:+81-92-414-6980 / Fax:+81-92-414-6981
History
2010
September:Established in Omuta, Fukuoka Japan (JV with Hess AG)
President Toshiki Tsukamoto
■Project:
SERA LED street lighting (Hiroshima and Kumamoto)
2011
March:Exhibition at 'Tokyo Lighting Fair 2011'
July:Completion of the outdoor showroom
October:Contract on the production license for LED roadway lighting (LIVORNO-XL)
November:Exhibition at 'Landscape Design Monitor Messe' in Tokyo

■Project:
SERA/NOVARA LED street lighting (Kyoto and Okayama)
CITY ELEMENTS LED street lighting/Sidewalk lighting (Okayama and Kumamoto)
VIGO LED landscape lighting (Fukuoka)
LEDIA-LL In-ground lighting (Osaka)

2012
January:Co-sponsorship and exhibition for 'JIDA Akari salon No.17' in Tokyo
February:Completion of the production line for LED roadway lighting (LIVORNO XL)
March:Visited 'Light&Building 2012' in Frankfurt/Factory tour at Hess AG
October:Success of the development for the specified Japanese lens/LEVO J-Optics
December:Participated the special event by JIDA Akari salon 「L-1 presentation vol.2」

■Project:
LIVORNO-XL LED roadway lighting (Fukuoka、Saga、Miyazaki 、Kagoshima)
BARCELONA / ALT BERLIN / CAMPONE LED Street lighting (Kumamoto and Fukuoka)
SERA solar LED Street lighting (Fukuoka)
POSITANO LED effect lighting (Tokyo/Hyogo)
LEDIA-LL LED In-ground lighting (Tokyo)
2013
March:Exhibition at 'Tokyo Lighting Fair 2013'

■Project:
LIVORNO-XL / LINEA LED roadway lighting (Kanagawa, Hyogo, Fukuoka, Saga)
RESIDENZA / OSLO / CAMPONE / YORK / NORFORK LED street lighting (Kanagawa, Nara, Fukuoka, Kumamoto, Oita)
SERA solar LED street lighting (Fukuoka)
LEDIA-LL LED In-ground lighting (Osaka)
2014
April:cquisition of Hess AG's equity and transfer to the Independent capital company
May :omepage renewal
Start of trading with Willy Meyer+Sohn GmbH+Co.KG

■Project:
LIVORNO-XL XL LED roadway lighting (Fukuoka)
FERRARA LED sidewalk lighting (Fukuoka)
RAVENNA LED In-ground lighting(Fukuoka)